by: Mitch Lund and Abby Wendt
The tire industry is one of the most important manufacturing industries in the world. Every year, millions of tires are produced to meet the needs of consumers, both domestically and internationally, and new tire concepts – including electric vehicles, smart tires, and sustainability – will drive future growth in global tire sales. As a result, Smithers forecasts future growth will continue at a compound annual growth rate (CAGR) of 4.3% (by value) through to 2026, pushing global value to $325.6 billion (at constant prices) and volume to 2.80 billion tires.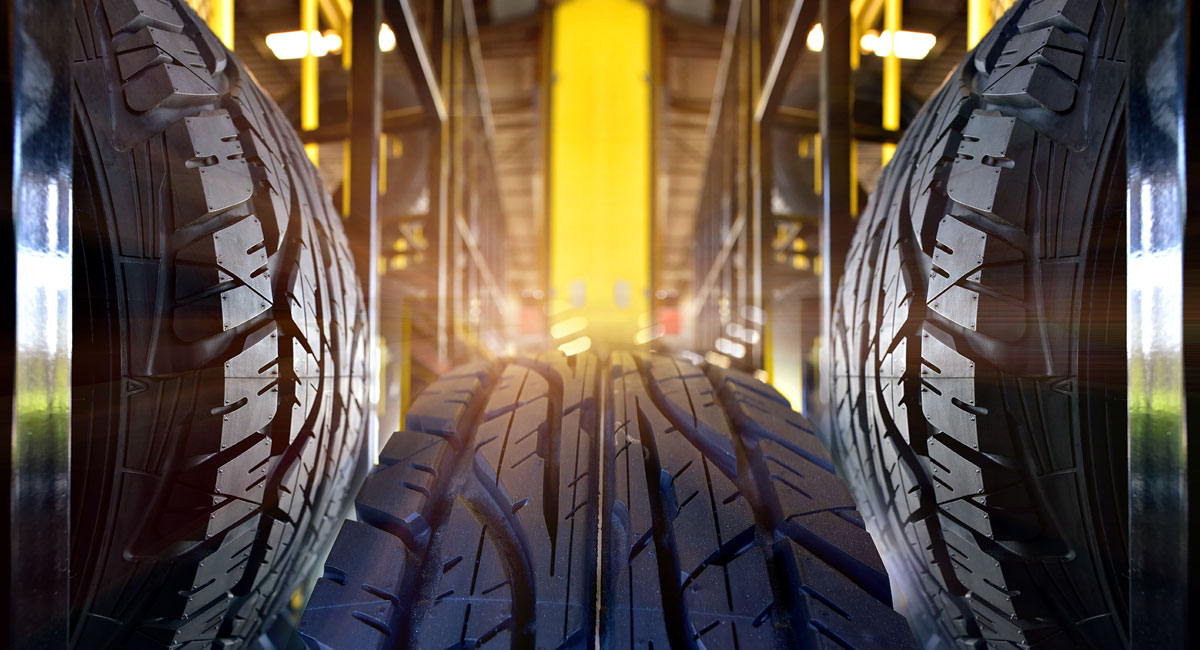 The World's Largest Tire Manufacturers
As of 2021, Michelin is the world's largest tire manufacturer, followed by Bridgestone (Japan), Continental (Germany), Goodyear (United States), and Sumitomo (Japan). Despite their dominance, there are hundreds of tire manufacturers around the globe that make up the global tire industry, and each manufacturer has their own unique production system. As tire technology continues to evolve, manufacturers must strive to create better-performing tires while reducing their environmental impact and adhering to specific regulations set by governing bodies like the Tire Industry Association (TIA). 
Machinery for Tire Manufacturing
Tire manufacturing is a complex process that requires specialized machinery and methods for safety, efficiency, and quality assurance. The manufacturing process is highly variable as tires are composed of many different raw materials, such as rubber, steel, fabric, and other chemicals. To ensure consistent production of a high-quality product that meets international safety standards, manufacturers must choose the right equipment to manufacture their tires efficiently.
Industry-recognized tire manufacturing machines play an essential role in streamlining production while increasing safety on the factory floor. All parts of the tire-making process must be accounted for, including mixing ingredients, molding, and curing rubber strips together with other components of the tire structure. Highly automated systems allow manufacturers to produce large volumes of tires in less time with fewer errors than manual operations.
How HaF Machinery Helps Tire Manufacturers
In the ever-evolving world of tire manufacturing, the incorporation of cutting-edge equipment is crucial to meet growing demands for efficiency and quality. With HaF equipment, tire manufacturers can experience enhanced efficiency in several key areas. 
Storage
Unloading and Transport
Batching of raw ingredients for different rubber compound recipes
Dust Collection
By keeping our finger on the pulse of the tire industry, HaF Equipment is ahead of the curve. The manufacturing of our equipment focuses on operator-centric designs and our proven processes for success to support our major markets, making HaF Equipment more than just a great equipment manufacturer. Our systems are equipped with advanced automation features that minimize human error and increase overall production speed further. We are your partner in excellence, committed to your success through service with integrity, purpose, and ingenuity. By designing innovative solutions to bulk material handling, we meet today's manufacturing challenges head-on to break through the status quo. 
HaF has the expertise and experience to accommodate a wide range of needs when it comes to material handling and equipment manufacturing. We're Ready to Connect with you and offer a customized solution and discuss your specific project needs. 
Contact a HaF account manager today to discuss your options.