by Will Aldrin And Spencer Evans
Flour is an important ingredient in baked goods, pasta, and many other foods, and wheat flour is one of the most universal ingredients used in food production worldwide. In 2018, of the approximately 765 million tons of wheat crop, 53% (or 402 million tons) were used to make wheat flour. More wheat flour was produced than sugar (166 million tons), salt (290 million tons), and soybeans (349 million tons).
The process of making flour is fairly simple; however, flour production on a large scale is complex and labor-intensive, and proper material handling of flour is a critical part of successfully processing flour for commercial use. An efficient material handling system will help to reduce production costs and improve product quality. Flour production best practices includes:
Easy to clean equipment: The use of material handling equipment that is designed with minimal crevices and grooves and can easily be cleaned
Automation: The use of material handling equipment with sensors and automation to control the flow of material
Implementing strict cleanliness protocols
Safety: Design systems that are safe and train employees in safe lifting and moving techniques
EASY-TO-CLEAN EQUIPMENT IS CRITICAL!
What do you mean flour is raw?!

This might surprise some of you, but all that flour is a raw ingredient. Flour isn't "raw" because it is a product component the way sand is the "raw" ingredient of glass. Flour is "raw" in the same way that uncooked meat and poultry are "raw." Flour is minimally processed during its creation, meaning there is still lots of bacteria in the flour, even in the bags you buy at a grocery store. None of that matters once the flour is used, as many applications of flour heat the flour to the point where most, if not all, of the bacteria are killed. But this means that the flour is highly susceptible to spoiling if not properly stored.

To make sure that flour successfully goes from field to food, there are a variety of important requirements that must be met so that the flour is moved and stored in a safe and sanitary manner.
Equipment in flour handling systems needs to be cleaned regularly. The HaF Moovinator is a filter receiver that is designed in a pneumatic conveying system to be easy to clean. Below is an image of the HaF Moovinator. When the filter bag access door is opened, there is easy access and a good "line of sight" for the operator to clean out the equipment.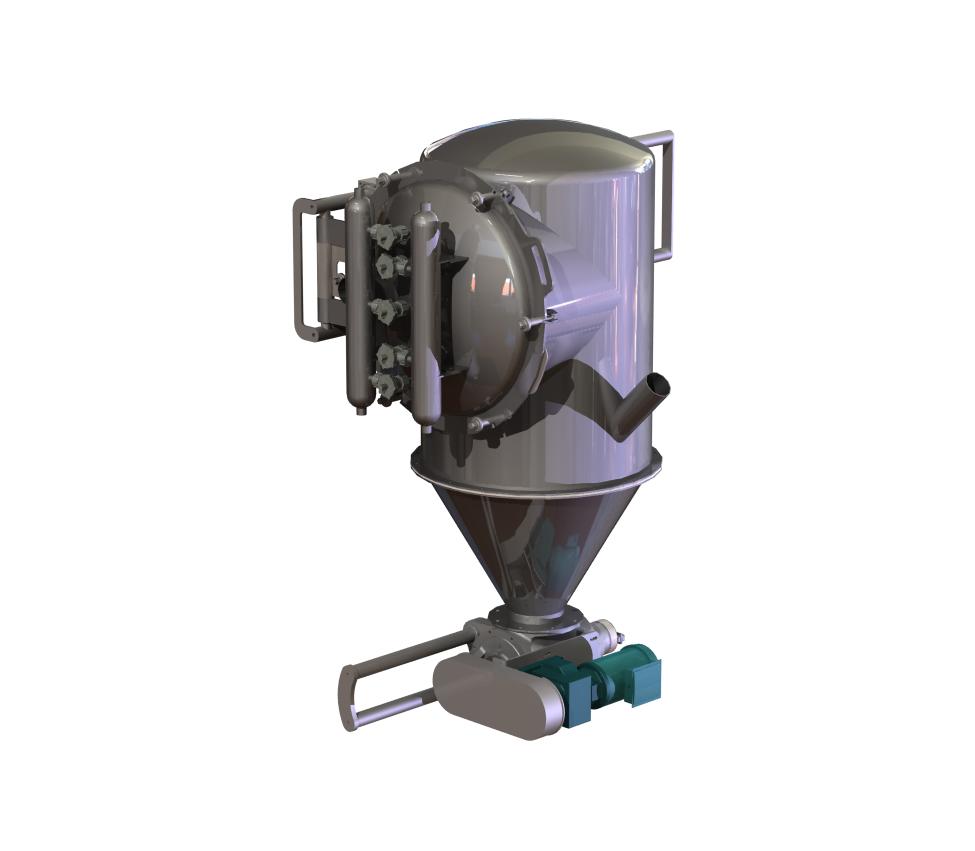 Safety and Sanitary Measures When Handling Flour
Considering humidity levels is one of the most important factors when storing or moving flour. Bacteria such as salmonella and E. coli can quickly propagate in flour when exposed to even mildly humid air. That's why dehumidifiers and airtight storage are necessary when storing flour for commercial food processing, especially in tropical climates near the equator. Humidity can also cause the flour to clump, leading to difficulty transporting it through pneumatic systems and improper mixing when producing products where flour is used.
When designing a flour handling system, several things must be considered.

The construction materials and the equipment's sanitary design level. Stainless steel and food-grade construction are critically important.
The equipment build must be checked to ensure no pits, crevices, or holes where material can stagnate, spoil, and infect the rest of the flour. This includes checking for airtightness on flour storage equipment. Imperfections will allow humid air to enter the system, raising the chance of bacteria growth in the flour.

In a facility that handles bulk flour production, there are many elements present for a dust explosion or fire to occur: fuel, confinement, dispersion, oxygen, and a spark. An effective and properly operating industrial dust collector and dust collection system minimizes the risk of fire or explosion and must be considered when designing a flour system.
Summary:
Proper material handling of flour is a critical part of successfully processing flour for commercial use; and an efficient material handling system will help to reduce production costs and improve product quality. Commercial manufacturers can help protect the consumer, their output levels, and ultimately their bottom line by investing in high-quality equipment for flour processing.
HaF Equipment specializes in the design and supply of flour processing systems, focusing on the details of sanitary design. We call it "tool-free-quick-take-apart" equipment. Our flour systems can also incorporate explosion mitigation equipment.
Contact a HaF account manager today to discuss your options.
---
You May Also Like:
Industrial Dust Collection: Why The Right Equipment Matters
Keep It Clean: HaF's Gravity Divert Valve